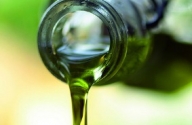 Jaen is a province with a great variety of raw ingredients for cooking. The good quality of products, such as our olive oil, makes Jaen's cuisine full of flavors and aromas, as well as very healthy. In the Middle Ages Jaen's culinary art was praised by Christians that fought against the Muslims, their typical cuisine was assimilated in our city's gastronomical culture.
We can also find roman origins in some of Jaen's dishes like "farinacea," widely elaborated with wheat or corn flour.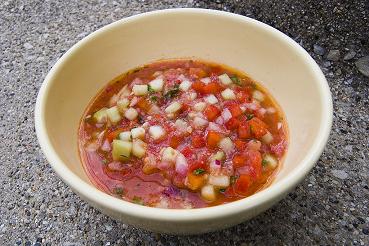 It is interesting to observe the gastronomic possibilities of the province: referring to "tapas" which are eaten at midday or in the late afternoon, to discover peculiar culinary specialties such as "Cornezuelo olives," "Cavacotes's cortecillas," or fried radish peels. "Pipirrana" is without a doubt the most typical salad in Jaen. We can also taste cod fish with capers or partridge salad, as well as "morcilla" (black pudding) or crayfish tails. Jaén has a wide variety of gazpachos (a kind of delicious vegetable soup) that you can eat hot or cold. "Cachorreñas" is one of the most popular types of gazpacho, with "chorizo" mixed with bread, pepper, garlic, Cummin, vinegar, oil and salt. We also have tasty sauces like "tarrafeña".  Furthermore, we can also find sauces made from almonds, cappers or "Ajoatao" (eggs, potatoes, olive oil, garlic, lemon and salt).
The cultivation of  vegetables in Jaen's countryside provides the tasty ingredients needed to elaborate local stews, for example  "saucy asparagus", "Jaen style spinach", "Collejas" ( a herbaceous plant), croquettes, "Friday's empanada", "Cazuela" or bean casserole with aubergines called "Almoronia" (whose origins are related to Navas of Tolosa's battle in 13th  century).
Other popular dishes of Jaén are "Andrajos," "Migas," (bread crumbs) or "Gachas" (porridge). Also well known in Jaen's cuisine are omelettes, we have a great variety with ingredients ranging from collejas, cucumber skin, courgette or thistle, amongst others. In Jaén you can experience the great taste of our fantastic lamb or pork meat because hunting here is very important. You can taste meat dishes such as garlic goat, pickled partridge, "carnete" and a great variety of prepared turkeys.
Arabic influences are also important in our kitchen. Nun's pastries are much appreciated here. The city's convent nuns make a great variety of sweets such as "Alfajores", "Almond sweets", "Nun's sigh", "Ochíos" ,"Saint cakes", "Hornazos", "Butter cakes" , "Gusanillos" or "Honey porridge".