Palace of the Vélez Family Legend
In Jaén we can find an interesting building from the 17th Century, with a beautiful façade, adorned with the coats of arms of noble families and with a little garden. This palace is located close to Valparaiso Street, popularly known as Callejón de la Mona.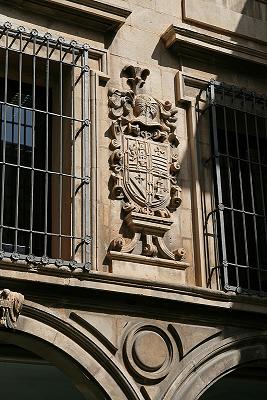 A legend says that this was the residence of a prominent rich family of the city. The family had an extremely beautiful daughter with all of the virtues that a young maiden who you could marry should have. She was a modest person, always treating everybody equally because she was not concerned with social class. She was as unpretentious as a saint. Due to this attitude of life, she met different kinds of people with different problems. She had many admirers within the Jaen aristocracy. 
One day, the beautiful young woman, started to build a friendship with a humble plebeian, probably one of the servants of the palace. She found lot of virtues in this young man, virtues that she did not find in any other of her rich admirers. They both fell deeply in love. They lived their romantic life in silence until one day the father of the beautiful lady discovered their relationship and became extremely furious. He thought of a drastic solution to break them up.
He locked his daughter in the upper room of a tower and erected a huge wall at the door of the room so she was in solitary confinement. From then on, it is said that they acted as if they didn't have this daughter and they forgot about her existence as if the young lady had died as they did not want the people of the city to know about this shameful situation. The legend says that the young man, who was incredibly in love with the young lady, went to the tower where the young lady was kept every day. Through a small hole in the wall she gave him love messages written in the pages of a prayer book, the only thing that her parents let her have in confinement. She used a wood chip to prick her fingers in order to draw blood to write the love words to her lover. 
Nowadays, some people say that the ghost of a blue-eyed blonde young lady walks through the rooms of the palace, maybe trying to find her humble lover, because she could not forget about him even though several centuries have passed since this sad event happened