Tour around the surrounding mountain ranges and adventure sports
Tour around the surrounding mountain ranges and adventure sports
in contact with jaén's nature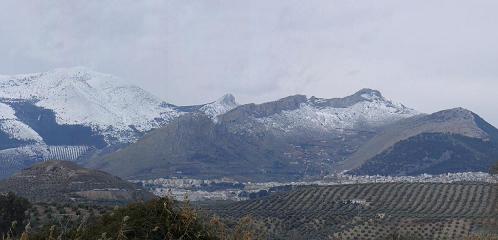 Please note: The information contained in this section is not a manual; the detailed information provided below is not exhaustive, this is only a reference of recommendation or advice. Training, prudence and common sense are essential for the practice of hiking and climbing. In any case, the hiker and the climber are solely responsible for any accident that might occur due to inappropriate practice. To learn and practice these sports with safety it is recommended to go to specific clubs, federations, and specialist companies with qualified personnel.
Almost half of Jaén's territory is surrounded by the mountainous system of Sierras Béticas. This is easily observable when we contemplate the surroundings of the city from Santa Catalina's castle, which serves as an excellent view point of the city. More than one hundred square kilometres of forest tree mass, meadows and rocky peaks spread towards the south. Specifically, we can find 4363 hectares of forest with two areas of protected status, the two peri-urban parks of El Neveral and that of the Sierra. We can find hidden routes in the mountains that lead us to marvellous landscapes with an outstanding Iberian fauna close to the centre of the city. In these same mountains one can practice adventure sports such as climbing. 
Another peculiar area of the city is the transitional zone between the countryside and the mountainous range (Sierra). The hills covered by olive trees turn to a picturesque landscape full of steep slopes where the olive forest is painted with pines, cornicabras and chaparro trees. At the top of these slopes we can find steep hills such as Los Zumbeles, Peñas de Castro, Canjorro, Peña de Jaén amongst others. From these heights we can enjoy the wonderful views of the city and its surroundings. We can observe the influence of rural architecture in the traditional country houses, typical in the province of Jaén. 
1.- General recommendations for hiking
4.- Pinares del Neveral path PR-A127
7.- Climbing in the sport area of the southern face of saint catalina castle